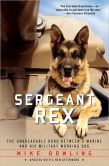 www.BarnesAndNoble.com
is packed with great deals on books for all interests; with $25 or more, you get FREE SHIPPING; many can be ordered online & picked up in-store:
$15 "SERGEANT REX: THE UNBREAKABLE BOND BETWEEN A MARINE & HIS MILITARY WORKING DOG" by Mike Dowling with Damien Lewis - $4.48.
Softcover.
$14.95 "GOOD HOUSEKEEPING COOKIES" SPIRAL-BOUND COOKBOOK - $4.48.
$14.95

"$3 SOUPS & STEWS: DELICIOUS, LOW-COST DISHES FOR YOUR FAMILY THAT EVERYONE WILL LOVE"

by Ellen Brown - $4.48.