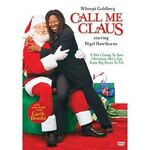 I just can't stop posting these deals on Christmas movies, books & music. All are shipped via budget-minded media rate & are available new & used. Some would make great early Christmas presents!
"CALL ME CLAUS" MOVIE on DVD - as low as $0.75;
starring Whoopi Goldberg.
"SILENT NIGHT: THE GREATEST HITS OF CHRISTMAS" MUSIC CD - as low as $0.01;
includes the Mormon Tabernacle Choir & the Columbia Brass & Percussion Ensemble.
"CHRISTMAS BY THE HEARTH: A TREASURY OF STORIES CELEBRATING THE MYSTERY & MEANING OF CHRISTMAS" HARDCOVER BOOK - as low as $0.75;
by Max Lucado & more.