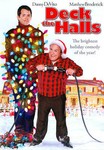 Another day, another bunch of good books, movies & music CDs from www.Half.com to put you in the Christmas spirit! On Tuesday, I explained how www.Half.com works. To see that info, scroll below Tuesday's Bible study. Shipping is always via media rate & very inexpensive.
"DECK THE HALLS" MOVIE on DVD - as low as $0.75; stars Matthew Broderick & Danny DeVito; rated PG.
"THE CHRISTMAS COLLECTION" MUSIC CD by BURL IVES - as low as $0.75.
"THE CHRISTMAS BLESSING" AUDIOBOOK on CD by DONNA VANLIERE - as low as $1.29.